Hey guys,
with this script I want to present my enhanced shops script. Basically a pretty simple, but often suggested script in our community.
Features:
You can set up different Peds for every shop you add to the Config. And those are also performance-optimized, so they unload when you are far away.
You can toggle the possibility to sell items to a shop in the Config.
This can be f.e. useful to let players sell the items they farmed with myJobsystem at special shops.
You can add as many shops as you want and
→ toggle the blip for each shop individually
→ set up individual shop content
→ select a ped for this shop
→ and choose a banner (like the 24/7 banner)
You can set up everything in the Config: Also a Translation file with english and german translations is included.
Showcase: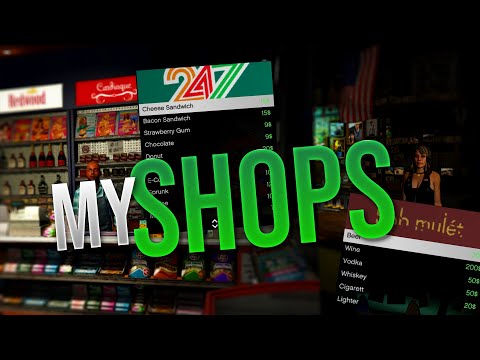 Example shops:

You can add as many shops as you want with different shop content simply through the Config.
Config

Config = {}

Config.Locale = 'en'

Config.NotificationPicture = 'CHAR_MANUEL'

Config.EnableBuyOption = true -- Should players be able to sell items at the shop
Config.PriceBuyDivide = 2 -- Sell price / this value = buy price
Config.useWeightSystem = true

Config.Shops = {

    {type = "shop", name = "Shop", pedmodel = "mp_m_shopkeep_01", banner = "shopui_title_conveniencestore", blip = 52, color = 2, x =372.48, y =326.74, z =103.57, rot = 240.0},
    {...}

}

Config.ShopItems = {
    ['shop'] = {
        {label = "Cheese Sandwich", name = "sandwich", price = 15, max = 120},
        {label = "Bacon Sandwich", name = "sandwich2", price = 15, max = 120},
        {...}
    },
    ['bar'] = {
        {label = "Beer", name = "beer", price = 30, max = 100},
        {...}
    }

}

Dependencies:
Price: 1.65€ + tax
Download at https://luis-scripts.tebex.io/package/4470748
Or you can get this script in a bundle with myClothesshop and EnhancedBarber in sale for 6.40€ + tax: https://luis-scripts.tebex.io/package/4470832
Feel free to check out my other scripts

myMailing
myJobsystem
myCrafting
myImpound
myDrugs
myClothesshop
myProperties
myMapbuilder
myMultichar
myBills
EnhancedBarbershop
myATMRobbery