Icon by flaticon.com
---
YOUTUBE SHOWCASE VIDEO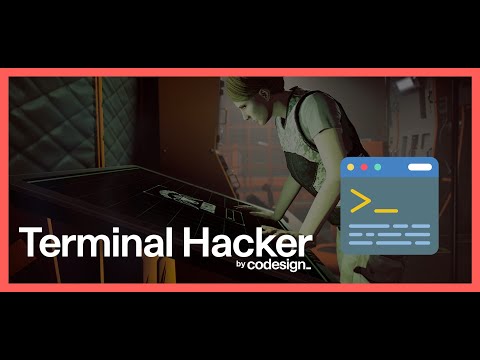 ---
Terminal hacker is a text-based minigame that requires players to find and run the .exe hack while avoiding anti-virus programs and collecting various useful text files for the score.
Hackers will be ranked on the leaderboard where those with the best time and highest score come first.
It features a fully adjustable user interface as well as the storyline and messages with 5 premade themes!

---
About the game
The point of the hacking game is to find the proper .exe file somewhere in a remote PC's directory.
Some .exe files are corrupted and will set you back. (You need to figure which are which).
Along your search path, you are supposed to download additional files from the file system and gain a score.
Score and time taken to determine the leaderboard placement, and the server owner can set their own actions based on time and score.
How to use
This works like any other hacking mini-game for FiveM, just more interactive.
You would place the export (as seen below) in a robbery script for example, and if the player completes the hack, you can either reward the player or allow them to progress to the next stage.
The scoreboard allows players to compete for the bragging rights of who is the best hacker.
local example = exports['cd_terminalhacker']:StartTerminalHacking()
if example.success then
	print('im a winner')
	print(example.time) --Returns the amount of time taken to complete (in seconds).
	print(example.score) --Returns the score. (You gain a higher score from downloading more optional files).
else
	print('i suck so bad')
end

---
---
---
We recommend that anyone interested in this resource checks out our new Documentation Website. This website includes:
Full installation guide
"How to" guides
Troubleshooting guide
Common problems and solutions
Full preview of the Configs and Locales/Translations
---
---
---
Configuration
The customer is free to configure the way terminal hacker displays files, file names, storyline, real .exe files, fake .exe files, generation chance of each file type, and so on.
To learn more expand the tabs below.
Dependencies and Compatibility
Expand

Framework Dependencies

| Framework | Compatibility | Notes |
| --- | --- | --- |
| ESX | drag-and-drop compatible | |
| QBCore | drag-and-drop compatible | |
| vRP | drag-and-drop compatible | |
| No-framework | drag-and-drop compatible | |
| Other (custom framework) | drag-and-drop compatible | |

---

SQL Resource Dependencies

| SQL Resource | Compatibility | Notes |
| --- | --- | --- |
| None | N/A | This resource does not use the database. |

---

Resource Dependencies

| Resource | Compatibility | Notes |
| --- | --- | --- |
| None | N/A | This resource does not have any dependencies. |

---

Locales/Translations

| Locale Type | Translatable | Notes |
| --- | --- | --- |
| UI | | |
| Notifications | | |

---

OneSync Compatibility

| State | Compatibility | Notes |
| --- | --- | --- |
| Infinity | | |
| Legacy | | |
| Disabled | | |
---
Check out our Tebex store at https://codesign.pro
---
Check out our other paid scripts:
Expand

[PAID] Codesign Highly customisable Car HUD
[PAID] Codesign Police Dispatch
[PAID] Codesign Donator Shop
[PAID] Codesign Vehicle Garage
[PAID] Codesign Identity
[PAID] Codesign Multicharacter
[PAID] Codesign Player HUD - Smartwatch
[PAID] Codesign Prop placer
[PAID] Codesign Spawn selector
[PAID] Codesign Terminal Hacker - Minigame
Check out our free scripts:
Expand

[FREE RELEASE] Easytime - Time and weather management by Codesign
[FREE RELEASE] Devtools - LUA / JSON Table viewer by Codesign
[FREE RELEASE] Draw text UI
[FREE RELEASE] Keymaster minigame by Codesign
---