I would finally like to introduce Luxart Vehicle Control V3 to the community as a whole. This script has been in the works for more than a year now, originally as minor modifications to a full rework and expansion of the original script.
Features
Siren Controller HUD: A small togglable and adjustable visual representation of the scripts functionality modeled after real siren controllers.

Additional Tones: adds 6 tones originally unutilized in V1, V2

Siren Assignments: now you can pick and choose which cars get what sirens. Models can have 3 to a theoretical unlimited amount of sirens. Different departments can utilize different sirens.

ELS Style Siren Hotkeys: utilize your numrow to quickly select which siren you want

Adjustable Manual / Auxiliary Tones: Change which tone to use for each manual tone (primary and secondary) as well as the auxiliary tone.

And Much More: Siren Park-Kill, Traffic Advisors (w/compatible vehicles), Take Downs, Extra Toggling, Enhanced Sound Effects, Lockout…
Installation
All the instructions and information needed can be found on our new website:
Github
All updated, suggestions, bug reports can be made under the issues tab. Download the releases not the branches. There are stable and prereleases (betas).
Example / Premade Configurations:
Screenshots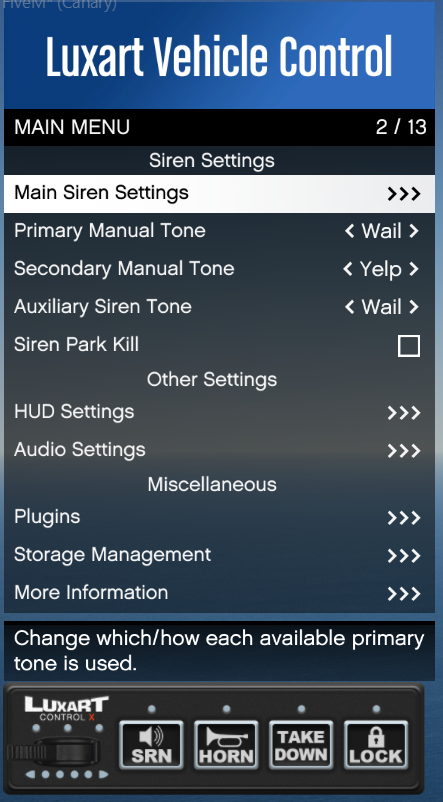 Video
Watch the video below using time stamps to navigate the explication of LVC v3.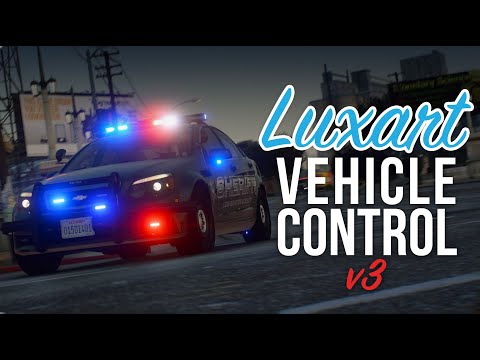 Credits
Luxart Vehicle Control was an ingenious creation by Lt. Caine! Thank you!
ELS Clicks added by Faction, this added realism pushed me to get into developing in the first place. Thank you!
All credit to those above who contributed their projects can be found here: