Smart Hose - London Studios (Paid)
Smart Hose is a standalone premium fire hose resource with a water mode, foam mode and even the ability to adjust the pressure of the fire hose. This is an upgrade from our free resource HoseLS found here. If you thought HoseLS was good, wait till you've seen Smart Hose!
This resource is highly configurable and this time, we've even added support for QB-Core, ESX and vRP servers. This resource is still standalone though, so we've got support for Ace Permissions straight out of the box too.
We've designed this resource with realism in mind, so another change we've made is a new foam effect that appears on the ground when using the foam mode. You'll also notice a brand new particle for the foam mode too.
This also integrates with our Smart Fires resource which is releasing on 25/12/2021.
To buy it, visit our store here.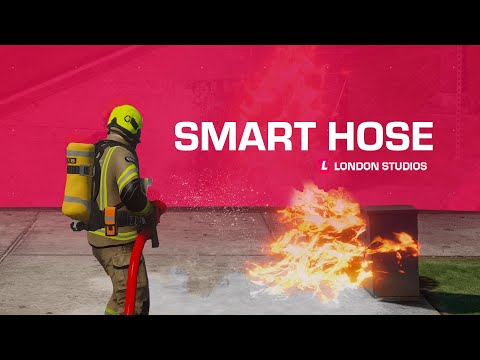 Full Features
Water Mode - Easily activate the water mode with /hose, using our custom addon weapon fire hose.
Foam Mode - Once you're in water mode, you can easily switch to spraying foam instead with the /foam command.
Foam Particles - We've added new particles for the foam mode to enhance realism. This is considerably different from the normal water particle and can be identified easily.
Foam Ground Effects - When using foam mode, a foam effect will be added to the ground everywhere you spray. This enhances realism on scene for all those involved.
Pressure System - When using either foam or water, using the arrow up and down keys will adjust the pressure of the foam or water making the particles bigger or smaller.
Faster - We've designed SmartHose with efficiency in mind and low resource usage is a priority. You can even test this out on our test server. See our website for the IP address.
Fully Synced - Every element of the resource is fully synced including the live changes in pressure and also the foam effects on the ground.
Permission Checks - We support QB-Core, ESX and vRP straight out of the box, with the ability to check for jobs/permissions. We also have support for ace permissions which can be easily configured.
Exports - We've added server exports for activating the fire hose and foam mode, allowing you to easily integrate this into an external menu or system. If you need additional exports or any other assistance, get in touch with us.
Configurable - Every aspect of the resource is configurable compared to our free HoseLS resource. You can adjust everything from a cooldown on the hose to even the maximum pressure size for water. This allows you to modify the resource to fit the needs of your server and community.
Purchase
To purchase the resource, head to our Tebex store here.
Test it out
Test out the resource on our test server. For more information on this, see our website here.
Documentation
Our documentation can be found here. We recommend all customers read this before using and even configuring the resource and it explains every step of the process. Please read this before contacting us with any problems.
This resource uses the FiveM Tebex Escrow system found here along with all of our other resources. Our documentation website has information on how to download and update resources from this system.
Support
London Studios are committed to ensuring high standard support is offered to all customers who have purchased this resource. Our support team will do our best to assist you, however in some circumstances we will be unable to assist, such as integrating it with a framework our support team may not be familiar.
We will respond to messages on the forum with requests for support.
Feedback
We appreciate feedback, bugs and suggestions related to Smart Hose and future plugins. We hope you enjoy using the resource and look forward to hearing from people and seeing videos/screenshots of the plugin in action!
Screenshots