Script properties :
1.It allows them to use my bodycam to get real-time screen recording for occupations such as the Police and the sheriff, and to re-display them.
2.You can filter records by a specific date.

3.People with the profession rank you specify have the authority to delete records.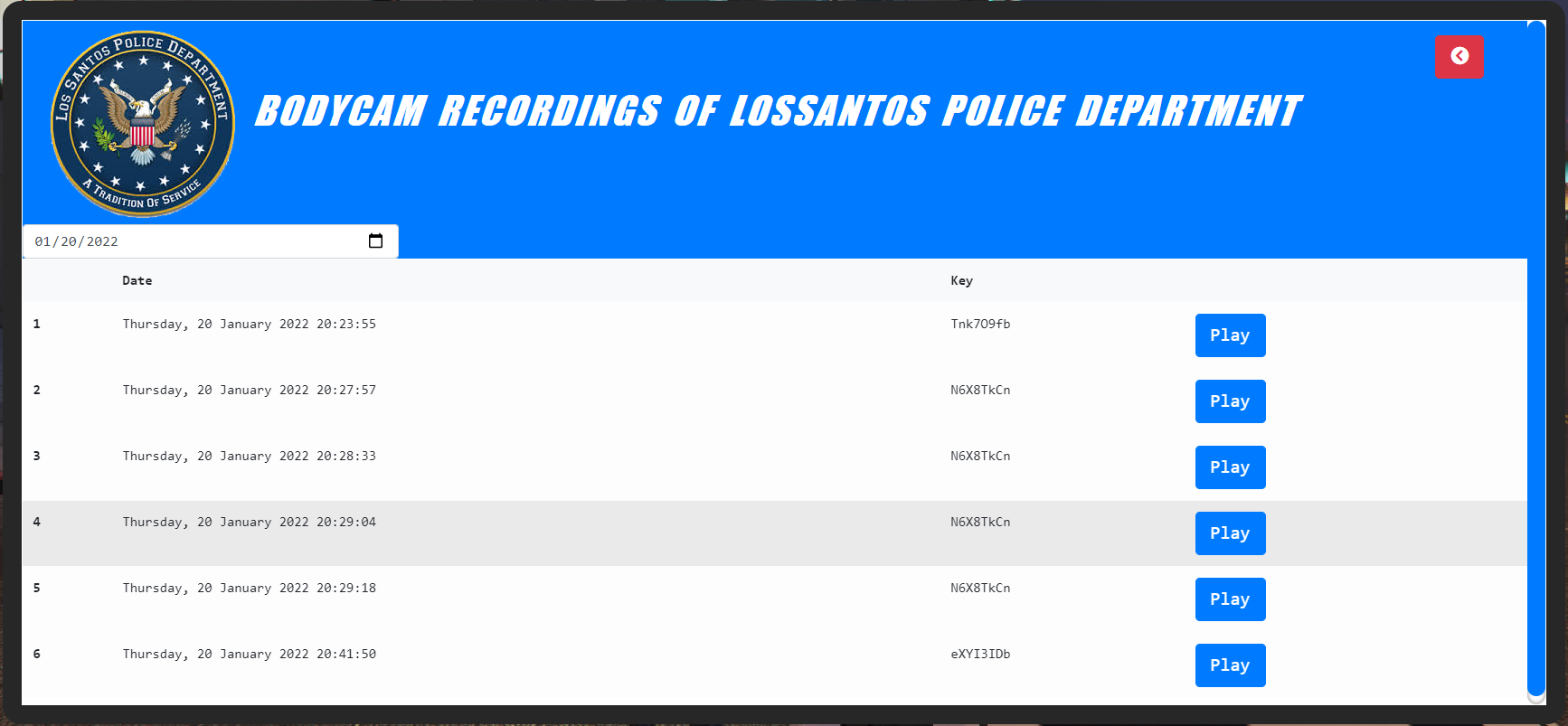 4.Records are kept using discord webhook, and videos that continue due to the discordon upload limit are divided into 30-second parties on the discord.
5.Registration information is stored as JSON data.
6.Used for JavaScript and HTML screen recording, so the fps is reduced as much as possible.
7.Uses 0.0 to 0.01 ms while the script is active.
Configurable settings via Config (video quality, commands, jobs)
open source , does not contain encryption
For the standalone version, you must edit the user information functionality based on your server
function getPlayerInfo(source)
    local result = MySQL.Sync.fetchAll("SELECT * FROM users WHERE identifier = @identifier", {
        ['@identifier'] = source
    })
    if result[1] ~= nil then
        local identity = result[1]
        return {
            firstname = identity['firstname'],
            lastname = identity['lastname'],
            job = identity['job'],
            job_grade = identity['job_grade']
        }
    else
        return nil
    end
end

Because of the recording program that I used extra in the preview video, the video is fluctuating and recordings are received more. here's a recording of my bodycam at 720p 60fps settings : previwe2
You can select the video format from JavaScript as mp4 instead of webm, which allows you to get better quality recording, but the file size will increase by 2 times the average.
module via @utkuali - utk-render
requirements
FREAMWORK : ESX or QB
BUY NOW 30 $
Other scripts →

Status Hud
Car Supermod
Rgb Headlight

UI Object Spawner - LSPD phone design

Barbecue Job - (Npc Customers & UI )
Atm Robbery
MY TEBEX STORE→
NakreS