Hello once again, CFX community!
We're back with a top-notch quality resource once again, written fully from scratch: the best sound system! The smoothest, the most optimized and most advanced sound system that you can surely be proud of using in your own server.
---
This resource uses the
NUI
technology for playing sounds, but does not use the experimental and buggy positional web audio api.
And before you say that NUI is not made for playing audio, or that this resource is overpriced, our main reason of creating this sound system is to recreate the in-game native behavior for playing 3D audio with the ease of use, adding amazing audio effects that GTA does not provide in their native and giving advanced modification of sounds as well as other amazing features!
Being able to simply put your own mp3, ogg, wav and other format audio files or just put a YouTube video link to play audio in-game with extremely realistic effects such as actual 3D audio, muffled audio effects for various conditions and all that with by far the best optimization allowing 10's of sounds being played near you!
In short, you can play 10 sounds and have only 0.05ms CPU usage! with all the effects, smoothness and real 3D audio! You get huge free updates, priority support, systems built with +4 years of experience in Web and FiveM development!
Resource is fully compatible with OneSync and OneSync Infinity!
Our resource also fully supports rcore_radiocar! So you can have music play in the vehicle with all the nice effects and smoothness! You can purchase rcore-radiocar here!
We will let the introduction video talk for us and present the resource in detail!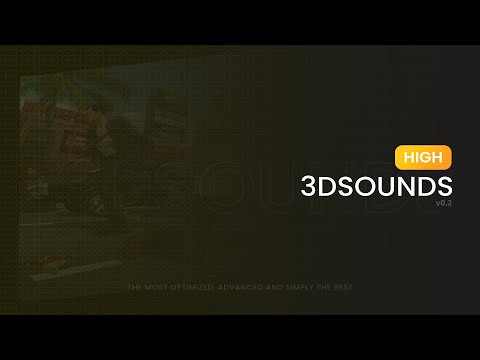 Worth mentioning features, and what you get by buying this:
Multiple audio file format support. Can put .ogg, .mp3 and other files into the sounds folder, no need to specify the format when playing the sound.
Seamless 3D sound, no sound cutting between right and left ears, the smoothest transitions on the market available.
High configurability including an option to have the sounds in entities that are type vehicle muffled if the door is closed & you're not sitting in it.
Amazing optimization knowing this script does complex math calculations. With more than 0 sounds the CPU usage is only ~0.02ms, and with 10 sound players the CPU usage is only ~0.05ms!!! This means you can use this resource for a radio system that would be accessible by every player!!
Easy alternative to interactsound or xsound, doesn't require changing event/function names!! Only transfering the sound files to high_3dsounds/assets/sounds folder that can have ANY format, it is automatically found by the script.
Ability to play ALL [copyrighted, non-copyrighted] videos from YouTube with just the video link! Works the same as it does with regular audio files with the 3D audio and effects.
Automatic loading of already playing sounds on the server and playing it at the same timestamp as it is for other people on player join (synced audio time position) (only works on server-side played sounds).
It does not require any dependencies, it is a standalone drag and drop replacement for interact-sound and xsound resources! You can use this resource for making new resources that require a sound system with an advanced API that will keep getting expanded and developed for a long time!
This script uses the new FiveM's script authentication/escrow so your server artifact version has to be 4752 or above in order to be able to run this resource!
---
You can purchase the resource on our tebex shop at 45€ excl. VAT!!
Documentation for the resource can be found here!
---
| | |
| --- | --- |
| Code is accessible | Huge configs, main code - no |
| Subscription-based | No |
| Lines (approximately) | ~1600 |
| Requirements | None |
| Support | Of course |
Also check out our other awesome resources:
high-phone
high-loading