Better FPS | Dynamic Shadow/Resolution Adjuster To Boost your FPS !

---
Dynamically changing your Resolution/Shadow Scale to reach your Target FPS based on your PC Power !
---
This script will make your server more enjoyable for more players , doesn't matter if you have Low-End PC or High-End PC, it can make your frames to be CONSISTENCE and HIGHER !
---
So what is the difference between this script and any other FPS booster script ?

The difference is , this script will not give you presets to select , this script will automatically change resolution scale , shadow scale and target FPS based on your PC power, so you can get the best FPS possible with whatever you want your Settings to be like !
---
Features :

Dynamically change Resolution Scale

Dynamically change Shadow Scale

Static Resolution Scale (in case you want to !)

Higher resolution in case your PC can handle it and you want to!

Fully disable Shadows (you cant normally do this in GTA settings)

Target FPS : you can set a target FPS and script will try to adjust quality settings to reach it!

Auto Target FPS : Exactly as above , but you don't even have to do anything , it's all automatic!

All settings will be saved on your client !

All settings are cross-server compatible !

Translation system for multi language support !
---
Sub Menus :

Resolution Settings :


Shadow Settings :


Advanced Settings :


Config screenshots
---
Video :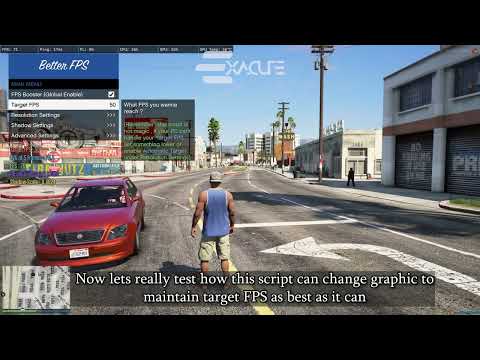 Video not working ? click here
---
Notes:
How much difference does it make ?

It highly depend on your PC configuration, but just for example of my own PC it can give me + ~10 to + 50 FPS , make sure to check the video above to see how this script fully work !
Is this for server or client ?

This is a script for server !
So everyone in your server can enjoy using this !
What is this Dynamic stuff anyway?

Simply, script will automatically change the resolution and shadow scale, based on your PC power, to reach your Target FPS
Additionally , even if you don't know what Target FPS is the best for you, script can also manage target FPS dynamically on the fly as well !

So, you can either really play with settings to make it as you like , or just let this script decide what is best for you !
High-End PC

If your PC is High-End , you can also use this to have higher resolution scale (configured by server owner in config) and have a better, crisp, high render scale even on far distance !

or on the other hand , have a very consistence frame rate without any drops !
Cant i just manually change the resolution scale in GTA Settings?

Sadly, this is not possible with Settings, and that is where this script come in handy ! to both fill that gap and also add a new feature like modern Games !
What is cross server compatibility for settings ?

Every setting you change , will be saved on your PC , so you will have the same settings if you are on other servers with this same script, no need to change the settings every single time you load in new server !
What about client usage ?

As this script is based on optimization , i tried my best for it to be as optimize as possible
Here is the resmon on my setup (R5 5600x - 3060TI - 32GB Ram) :

FPS Booster disabled : 0.00 ms
FPS Booster enabled : ~ 0.01 - 0.02 ms
FPS Booster enabled + On Screen Debug : ~0.05 - 0.06 ms
If menu is not visible, it will not add ANY usage at all !
Opening menu will add ~0.16 - 0.25 ms to usage
What API does the menu use ?

It uses a Modified version of WarMenu by warxander
---
| | |
| --- | --- |
| Code is accessible | Yes* |
| Subscription-based | No |
| Lines (approximately) | ~760 (w/o menu file) |
| Requirements | None, Standalone |
| Support | Yes |
*Most of the code are accessible and you can modify it as you like , but a very small part of the code is locked via Fivem Asset Escrow system to combat with resellers and abusers !
Still if you ever need any help, i am always available !
I hope you can understand the reason for this decision
---
My Other Releases:
Second Hand Vehicle Remastered
---