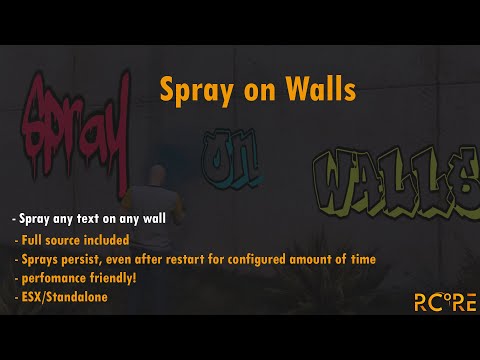 Cost: €20.00 | $24.00 excl. VAT
Tebex URL: https://store.rcore.cz/package/4519966
Have you ever wanted to spray on walls in Los Santos? Now is the day!
With this Spray script, you can spray any text on any surface, anywhere. Works great in multiplayer environment.
Get an item named spray in your inventory and type /spray some_word, and a spray settings menu will pop up. To remove a spray, either wait for 2 days or use item called spray_remover.
You can change keybinds, persistance duration, language in config file.
Get this Graffiti script TODAY over at our Tebex store - https://store.rcore.cz/package/4519966 - Full source code included
Graffiti/Spray features
Works out of the box with ESX, easily changeable to any framework
Both spray and spray remover are inventory items
Awesome performance
Can display up to 12 sprays at a time on screen (but unlimited map-wide)
8 preconfigured fonts
Stays even after restart (configure how many days it stays there)
Full source code included
Looks great at day and night
21 preconfigured colors
Supports OneSync/OneSync Infinity
Our other awesome releases
rcore arcade - https://store.rcore.cz/package/4472326
Imagine spending a day filled with hard work and stress. What can be better than a game of Wolfenstein 3D, Duke Nuken 3D?
rcore shops - https://store.rcore.cz/package/4355481
shops - Level up your shop game. You can create regular shops, shops for jobs, weapon shops and you can even pay with card, or old school cash way.
rcore billing- https://store.rcore.cz/package/4337821
This will bring old invoices to a whole new level. Add due dates, punish players for not paying invoices by deducting configurable % from their bank account periodically. It is fully compatible with esx_billing and is just a drop-in replacement.
Check out all of our resources over at our TEBEX store - https://store.rcore.cz/
Our favorite customer testimonial - Revival RP | J. Kallam - project owner
rcore is by far some of the best scripts that FiveM has ever seen! Revival Role Play is happy to be partnered with the rcore team and enjoy not only using the scripts on the server but also helping to provide useful feedback to the team at rcore to perfect the already amazing product. Also worth mentioning is the amount of one on one help and teaching provided by the team at rcore in order to make scripts work in the way that is needed on our server, and the friendships built in doing so. We can't recommend them enough! You will never go wrong in spending a very resonable amount for incredible scripts that will bring something special to your role-play server, and the fantastic customer support behind it!