Overview of the menu
This menu recreates vehicle camera from scratch and introduces a number of customizable parameters for user to tune. On top of that there is a drone camera with a few modes to simulate drone flight.
Main features of this menu:
Lead camera - main camera, rotates around car dependant on angular velocity of the vehicle
Chase camera - focuses on closest vehicle and points towards it
Drone camera - simulates drone physics, allows choice between different modes (race, zero-G, spectator, homing)
Customizable parameters - FOV, XYZ position offsets, interpolation values and more
Saving/loading - save and load camera parameters or choose from default presets
Installation
Go to releases and download latest zipped release. Unzip and place enhancedcamera folder inside your server's resources folder, then edit your server.cfg to include line start enhancedcamera.
Default menu key is F11, tune it in config.ini.
Parameters overview
It's best to just experiment with parameters to see how they affect camera handling (for lead/chase camera you can start by spawning a preset from submenu).
Lead and chase camera parameters:
Lock position offset - determines whether camera changes position compared to vehicle (or just rotates)
Linear position offset - experimental feature, camera changes position along the line drawn behind vehicle instead of doing circular motion around the car
Lock rotation to camera plane - changes the way that camera rotates around car (mostly visible on uneven ground)
Modifier - this modifier * angular velocity = target rotation. Higher values make camera move further from lock. (-1,1)
Yaw interpolation - lower values - smoother movement along yaw axis (0,1)
Roll interpolation - lower values - smoother movement along roll axis (0,1)
Pitch interpolation - lower values - smoother movement along pitch axis (0,1)
Camera offset - offsets chase camera target towards its velocity vector. (0,5)
Position interpolation - lower values - smoother movement, higher delay. (0,1)
FOV - changes field of view, may affect performance with higher values (20,120)
X/Y/Z Offset - static position offset in XYZ direction
Max angle to lock - for chase camera only, max angle from velocity vector to keep the lock on, if angle exceeds this limit, camera switches back to normal. (25,360)
Examples/showcase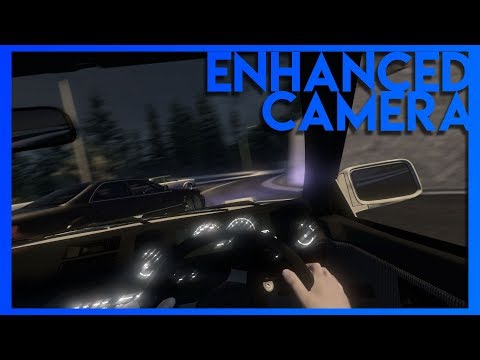 Credits
Additional info
Project's source code can be viewed here.