Fiv3Devs presents Pacific Bluffs Beach, a custom map located in Chumash. This place is more of a vibe than an actual resort. The unique beach enviroment is the perfect place for everyone to have a private, fun and comfortable time! The Pacific Bluffs Beach offers five enterable bungalows connected simply by a wooden path on the beach with tiki torches lighting your way. Each bungalow has their private room, massage chairs and a garden . Along the path there are many custom furnitures to comfortably enjoy your stay, just feel free to lay on our beach beds or have a pool game with your friends on the central building while a DJ is performing. Near the central building you will also find a small boat bar that will provide every customer a nice and cold beverage, so they never need to move out of their bungalows or to go up to the main resort area. Last but not least, along the path you will be able to walk on an independent platform placed right above the water where you can find a bar , a salty water pool , an aquarium with colorful fishes and another dj booth . Pacific Bluffs has never been so awesome!
Customizable Logos (Pacific Bluffs's)
Custom wooden planks path w/ wood details
Custom furnitures (beds, lights, etc…)
5 custom enterable furnished bungalow MLOs
Custom "boat bar"
Custom central relax/disco area building
Realistic animated grass on "garden" spots
Custom sea platform area
Custom aquarium with actual moving animated fishes
Clean scenario setting so the beach is empty
Custom Jetski NPC path redirection
Custom water settings
Removed dirt marks and trash from the classic building
TEBEX: Fiv3devs | Pacific Bluffs Beach (tebex.io 82€ + Tebex Tax)
BEWARE

:
THIS IS THE BEACH ONLY ADDON OF OUR PACIFIC BLUFFS MAP THAT YOU CAN FIND HERE: [MLO][PAID] Pacific Bluffs - Fiv3Devs - FiveM Resource Development & Modding / Releases - Cfx.re Community

This resource is FULLY COMPATIBLE with that map.

PLEASE BE AWARE: DO NOT RENAME this resource or you will crash and/or water will disappear from your server.

If you have bought our Pacific Bluffs map, remove all files from the "readme" folder when both are started. You should start this map first, then the original Pacific Bluffs.

It might NOT be compatible with different MLOs or modifications you may have of the main building due to the fact Rockstar put a beach volley net right in the middle of the beach.
BEWARE BEWARE BEWARE:
THIS VIDEO IS SHOWING BOTH THIS RESOURCE AND OUR BEACH ADD-ON WHICH YOU CAN FIND HERE: [MLO][PAID] Pacific Bluffs - Fiv3Devs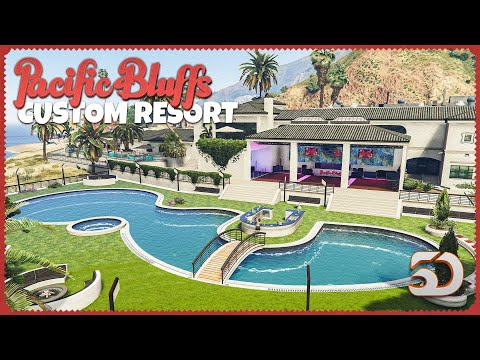 Images

















| | |
| --- | --- |
| Code is accessible | No |
| Subscription-based | No |
| Lines (approximately) | this_is_a_map |
| Requirements | Game version 2372 |
| Support | Yes |