The only FiveM server that has managed to get me playing for hours.
It may sound bias coming from one of the guys directly involved in this project, but I gotta say: The Cops and Robbers: Next Generation server will probably be your most unique experience while playing FiveM.
If you are tired of Roleplaying, bored, and looking for something new to do, I truly recommend you to give this server a go. You will not regret it. The community has been around for a while (back to SA-MP) and it is very friendly to new players.
Version 1.2.1 was released today, more details can be found at:
CnR:NG v1.2.1 Changelog
See you there.

Hello!
Version 1.3 has arrived, below you can find some highlights!
The full changelog can be found at: CnR:NG Version 1.3 Changelog
See you there!

Great server and gameplay, lots of activities for all playing styles and the best community around! The devs push updates often to increase the number of activities available. After a couple hours played, this server seems to be the best choice for a no-rp experience, with fun things to do all the time!
If you want cops to arrest you just by looking at you, touching you with their cars or flying their planes into you, this is your server.
Crazybobs Cops and Robbers in GTA V. Definetly worth a try.
One of the best and most promising servers out there ! I love the diversity of stuff you can do (as a civilian), as well as fast-paced arresting mechanics, and overall development activity with frequent updates, new missions, and fast fixes.
10/10
A truly unique and entertaining experience when in comparison to what a lot of servers offer currently on FiveM. When put in comparison to the other "Cops and Robbers" Servers, I feel CnR NG defines and truly illustrates what Cops and Robbers is all about. The server offers a wide variety of game play for the player, whether it be doing unique missions scattered throughout the city or going on robberies with your crew while being a thief, to even more laid back options like fishing or hunting. Looking to put a stop to crime? You can do that too! Be a police officer and hunt down crime throughout the city and arrest those criminals!
It's a great server with a lot of great people behind it. Plenty of players are there to help, so don't feel shy to ask questions or for help when in game or on the discord

Hope to see you there!
Here's a visual summary of the notable things that have changed/been added for Version 1.4's Changelog, encompassing NG's Halloween update.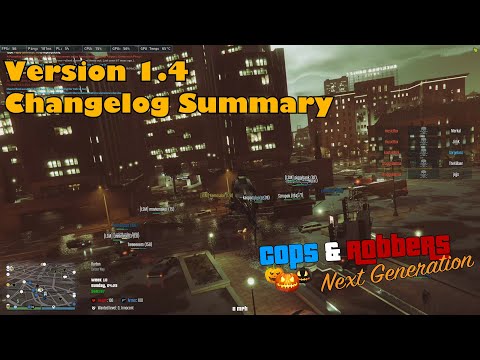 CnR:NG Version 1.4.1 - Changelog
Sieges
A new gameplay event where cops fight radical civilians (i.e. terrorists) over control of an area. These events start every two days or so in a random location.
Once a siege has started a pop-up will be displayed with exact information. /siege and /cancel can be used to respectively partake and stop partaking in the siege.
Terrorists' blips and nametags will be invisible for cops whilst partaking in the siege.
The goal for the cops is to kill all terrorists before the time runs out. The objective for the terrorists is to hold out and kill cops.
Rewards accounted for and deaths made less impactful (unfair).
Furthermore:
- Capped variable bank interest at $300k.
- /clearscreen will now remove all GUI elements, for taking scenic pictures etcetera. (DEFAULT KEY: H)
- Added statistics to the end of the week.
- Reworks to hit completion and cancellations (fees).
- Reworks to some crimes that previously might have been registered "too often".
For full changelog details please visit the forums or in-game with /changelog.
Ever since SAMP days, cops and robbers gamemode has always been a category of its own.
Despite being opened less than 6 months ago, this server already has a lot of features to offer (and more being added every few weeks). Some features need to be slightly improved, but with current development and possibilities, it has the potential to be one of the best and most unique servers on the platform.
What I like the most though, is the flexibility this server offers: be it a peaceful gameplay such as trucking or fishing, or chasing suspects and completing hit contracts - it's all there. It's not an RP server, it's not a DM server - I could describe it as a perfect blend of both, sort of.
Personally I like fast-paced gameplay, so police officer and hitman are skills that I mostly play. But if you feel like playing it slow or chilling with friends, I'm sure some of the other skills can fulfill your expectations. Yeah it takes some time to understand the mechanics, but once you do, amount of stuff you can do here is huge.
I'm surprised nobody before me has commented on this, but I like that I don't need to download 100+ MB of various addons, plug-ins, models and what-not - this server is pretty lightweight. Simple, yet so complex and unique.
Summary: if you're looking for a decent CNR server, CNR:NG is definitely worth checking out.
See you there.