$24,95 - Tax Included!
Buy on our tebex:
https://www.alpha-store.gg/package/5075826
Del Perro Police Station
Fully custom Del Perro Police Station in Los Santos!
Watch our video: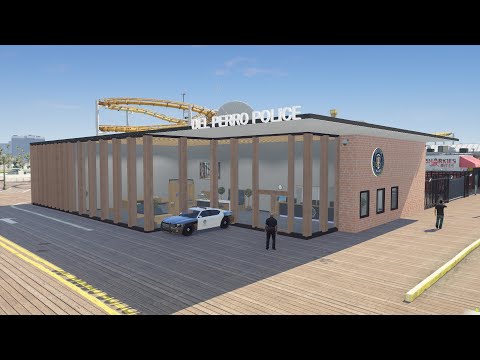 Promote roleplay
We have made this building purely for an ideal roleplaying experience, everything you could need is there!
Custom Exterior
The building is fully equipped with a custom exterior, finished with LED lights when it is dark.
Custom Interior
Of course, the building is fully equipped with a custom interior. You can read more about this below!
custom props
We have used custom props, so you will not find these anywhere else in GTA than at our building!
Fully Optimized
Not only is the building beautiful, but it is also fully optimized, we have made the building as low as possible in consumption, so that your server remains free of lagg/citybug!
Unique
In addition to the uniqueness that this building gives your server, it also stands out! That's how you keep creating new scenarios in your city!
Suitable for all frameworks (ESX, QBUS and Standalone)
It doesn't matter which framework you use! Our building is always working. After purchasing this building it is a matter of downloading and dragging it into your server!
The building features:
Front desk
lobby
4 cells
Multifunctional room
Locker Room
Storage
Parking lots
encryption
Our building is fully protected by escrow.
Would you like to give this building as a gift?
Good news! This is possible! After the purchase you have the option to transfer the building once to another CFX.re account. There may be a small delay after transferring the asset.
(Note! This can be done once, the recipient cannot return the building afterwards!)
Not yet convinced? Check out more pictures:
https://alpha-store.nl/Del-Perro-Police-Station/
| | |
| --- | --- |
| Code is accessible | No |
| Subscription-based | No |
| Lines (approximately) | N/A |
| Requirements | Build 5181 |
| Support | Yes |
Looking for our Dutch Version? No Problem! You can find it here:
https://shop.alpha-store.nl/package/5063941