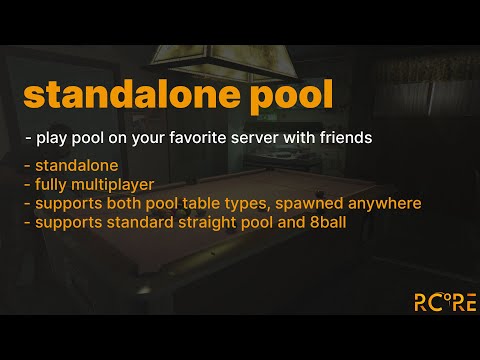 Cost: €45.00 | $55.00 excl. VAT
Tebex URL: https://store.rcore.cz/package/4342929
Take a break from chaotic Los Santos shenanigans and play some old school pool with your friends.
This script supports any number of players, anywhere on the map where you can find a billiards table. You can also place your own pool tables wherever you want.
Almost everyone uses a bit different pool rules, so this script doesn't restrict you to any ruleset. You can reset the game anytime, play ball-in-hand (so you can place ball anywhere) wherever you want. To prevent players from cheating, you must watch the game and stop them from doing so.
Whenever a ball is pocketed or player takes the ball in hand, everyone around the table receives a notification (Player has picked up the ball/what ball was pocketed.)
You can change keybinds or language in config file.
Get Pool/Billiards on your server TODAY over at our Tebex store - https://store.rcore.cz/package/4342929
Pool Features
Works on every server (esx/qbcore/vrp/anything)
Straight pool or 8 ball
All pool tables anywhere work
Anyone can play
Fully multiplayer synced
Full sound support - balls colliding, balls being pocketed, balls bouncing off of cushions
Uses WarMenu (included), but you can easily use your own menu system
Uses native notifications, but can easily be configured to your server's notification system
Our other awesome releases
Standalone Tennis - https://store.rcore.cz/package/4723201
Challenge your friends or foes to a Tennis match! All courts supported, even when there is multiple of them next to each other. You can even organize a grand Tournament!
Standalone Piano - https://store.rcore.cz/package/4707008
Do you like music? Do you wish to share your art with others? Here is a chance! We're introducing a piano script.
ESX Clothes Shop - https://store.rcore.cz/package/4337820
Step up your clothing shop game with this awesome resource! You can restrict items per shop (like jewelery store, hat shop), pay with cash or card (bank account.) You can even restrict items like police clothes!
Check out all of our resources over at our TEBEX store - https://store.rcore.cz/
You can play pool anywhere (La Tequila, Yellow Jack or any custom placed table anywhere), for instance in this Yacht Club - [Mapping] Yacht Club
Our favorite customer testimonial - PERPGamer
I have been around the FiveM "block" for a while now, getting different scripts with different amounts of help. The worst coming from a dev claiming to put amazing quality scripts. Compared to EVERY other FiveM dev I have came across/dealt with, these guys (and gals?) have been literally the BEST CUSTOMER SUPPORT EVER! (Special thanks to teb for being outstanding!)