Welcome to San Andreas Valley Roleplay.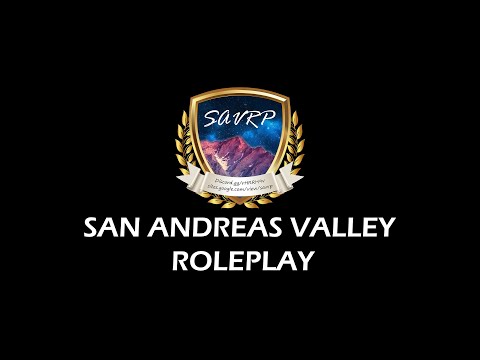 In the San Andreas Valley, Our goal is to make you feel like a valued member of our community. We strive to create the best custom assets, liveries, and environments that can be found - to enhance your personal roleplay experience.
We are an ESX-based, Vmenu Enabled - Realism server, to try to give everyone the best chance at creating the Roleplay they want. With over 25 ESX based jobs, and endless non-ESX opportunities, you can always find something to do with us.
Checkout our site at: SAVRP
Each Department - whether its emergency, security, or civilian, has its own fleet of vehicles and Custom to SAVRP dedicated liveries. If we don't have a department of business that interests you, We will take the time to create one to enhance your roleplay experience.
In addition to the job center related careers, we also have ownable gas stations with player managed stock, pricing, and exports - we have 37 ownable general stores ranging from 24/7s, Bait and tackle, LTDs, etc where you can manage and set your own prices on goods supplied. If the underground and black markets are more your style, we even have those ready for you to manage and own! IF that wasnt enough for you - we even have fully functional mechanic shops and player owned and stocked dealerships to handle our 900+ addon cars! What we haven't thought of, or don't have… just let us know and we will see about adding it!
Is Property Flipping more your style? well with our over 350+ non colliding MLOs - and an excess of IPL and other interior locations - buy yourself a piece of the valley and try to flip for a profit to another player, or hold onto it and live a lush life.
Main Emergency Departmental opportunities that we offer are:
Blaine County Sheriffs Office
Knock, Knock – SRT! 6 men rush in to seize 8 kilos of that sweet black tar Columbian cocaine… or busting and ticketing Grampa going 3 miles per hour over the speed limit in Sandy Shores, which ever floats your boat. The Blaine County Sheriffs office provides the essential back bones to keeping the peace on the streets in the San Andreas Valley. Your day to day as an officer in this great county and community is valued and will always be entertaining!

San Andreas Valley Highway Patrol
I mean what can we say… would you rather low speed, high drag… or highspeed, blue lights, a gun, and a badge that says "Get your ass out of that Porsche, Steve McQueen wanna be tool – and put your hands up", after going on a 30 minute chase through the highways and along the coasts of San Andreas Valley with Air Ones overhead spotlight circling the area. Your choice…

Blaine County Fire Department
Yellowjack on fire again, little Suzy stuck down a 75ft well, scents of arson in the air all around Blaine County? Well your job could be to rescue Suzy in that water well or provide emergency services when the wealthy supercar owners slam their Bugatti's into a tree. Here in the BCFD, we provide services from Land, Sea, and Air to the residences and business owners within San Andreas Valley.

San Andreas Valley EMS
Patients coming in with gunshot wounds, plugging holes with your fingers, prescribing Viagra for headaches, chaos is your middle name? …. Well here at the Blaine County Medical Center – the results are endless, and the choices are yours. Apply today to join San Andreas Valleys, Blaine County Medical Center!
At SAVRP, we believe you are your own best role-player. Immerse yourself in our valley, believe in the characters that you create, and live the life of a member within the San Andreas Valley.
Welcome to our Valley!