Amazing, thank you so much
You do know someone made an esx version along time ago, right? Same script as these so i wouod be quiet because you probably copied off that other one.
what?? i made esx version 10 months ago, there was no other similar script for slots, all other was with html and javascript. i was the first developer who made it.
you admitted that you have seen my code and copied the animation part, okay, that's not a big deal, it's just an animation.
but you also copied the core code from the spinning, its indecally the same, yeah the rotation speed is not the same bcz the speed is random.
the reels (the object inside the machine that is spinning) never stop in the real symbol bcz the spining and the static reel are different objects.
here you can see his in both scripts the reels is a bit close to the player and a bit left when spinning.
its imposible two developers made that with same behavor, i made it on purpose almost a year ago and i started to sell the script 10 months ago here on the forum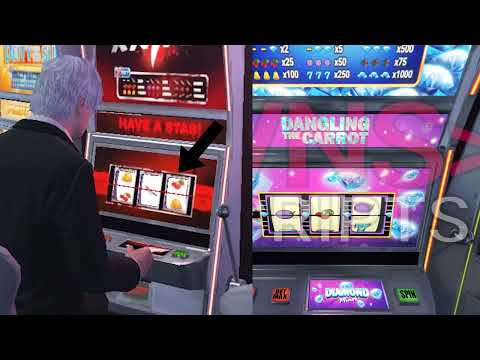 I can buy it or fivem will delete this resource?

I will wait until the request of DarkNosS96 will be solved by admins
A script similar to both of these has been around longer than 10 months. It is no longer available as it was before FiveM allowed sales and was sold elsewhere. It had a job built in as well as blackjack. The slots work exactly like these do.
Dont make me start up my ESX server to show you…
please do it, because a year ago i saw only blackjack and roulette script that is realistic with props and animations. I also searched outside the tebex, on another webstores and i never found a slot script. so please send me a video that is been uploaded before May 2021.
Update server-side count random winning rate per spin
Right now I don't trust who to buy the script from, but if I see so many problems, one of the two is free ahahahahah it's a joke or not hahahah
no sounds so terrible. and you have to edit it to make it work, for QB, no notifications, nothing but nothing.
Have event to fire when player enter, exit, spin… ready. you can make by your self or contact me for support. Because this is standalone version.
Sound front end will bee include soon.
I've been doing so much work lately this is the one thing I was hoping I could drop in and it work right off the bat…
i'll give you the support.
Any updates? I haven't messed with it since we last talked through DM. Willing to help get example configs/events for QB set up if you want to tackle it together. I believe a plug & play resource will be better than something that needs a lot of editing to be functional. Not everyone has coding knowledge so itll definitely help them out bigtime.
There is a slot script from 2020
. Lets show him from my chat history