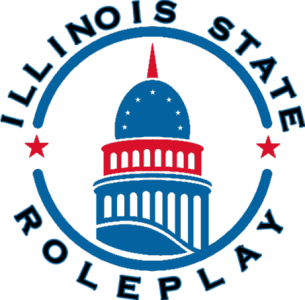 Illinois State Roleplay
Discord: https://discord.gg/6Gm4PgrCsQ
FiveM Direct Connect IP: 74.91.113.91
Pictures of Server Below
Background
Illinois State Roleplay is a community originally created in 2018, but since then we have faded away. We have decided to come back and try out the new FivePD! Illinois State Roleplay is here for the people of FiveM. A server where everyone can hop on enjoy a new type of way of life! Might as well stop on by, you might like it. We are not like normal FivePD servers, where you either can't go civilian or have to be whitelisted. If you choose to be a civilian, then that is perfectly fine.
Common Question: Do you guys allow civilians? | Yes, if you wish to be one. Then just hop in the server and have a good time.
Common Question: How do I become a cop? | Very Easy.
Instructions To Join:
Join our Discord (Link Provided Above).
Look under the channel name

#pick-a-department

Type in the department you want to join, boom! Already done!
About Our Server
Our server is a lag free server run off of a Virtual Private Server (VPS). We believe running our community off of a VPS is more effective and lag free. So far, we have encountered zero lag issues. Report any lag issues in the #bug-reports channel in discord!
Server-Sided Mods
FivePD

FivePD is a law enforcement script that allows players like you and I to interact with AI's. FivePD is known as the server sided LSPDFR.

Custom Civilian Vehicles

We got multiple civilian vehicles ranging from cars, trucks, bikes, semi's, and custom trailers and more to come! If you are in the server, Press F6 and open up Civilian Toolbox

Custom EUP

We have a wide selection of EUP for your pickings, from law enforcement, fire, ems, to civilian and civilian based jobs!

Custom Police Cars

Join our FiveM server to find out what other mods we have offered!

And A Lot More Than What Is Listed!
Departments Offered
Currently we have 3 Departments Open:
Chicago Police Department
Cook County Sheriff's Office
Illinois State Police
And More To Come!
Realistic Roleplay
We are all about realistic roleplay, so strict, serious roleplay is enforced 24/7, and admins are always watching.
The only real time the server should be paused is in the event of a possible troller on the server. All members are expected to pause roleplay unless we figure out who is causing these issues!
Server Mangement Team
Our Server Management Team is a group of experienced individuals. They have had a plethora of experience, even years. If you need any help or have a report regarding a staff member, see us!
Server Staff Team/Regulation Enforcers
The Staff Team is a regulation enforcement team that will work to make sure the FiveM server is running smoothly with serious roleplay and will make sure that nobody is messing around, as well as keeping the Police Force/s in line. These members go through a rigorous training course and interview to ensure they are a good fit for the team.
We hope to see you here!
Illinois State Roleplay Management Team