Euphoric City RP
Interested in joining and checking out all we have to offer?
Website
Discord


Euphoric City Roleplay is a whitelisted FiveM server that focuses on quality roleplay and listening to community feedback. We maintain an active staff team and community, all of which work together to provide the best and most up-to-date FiveM server out there.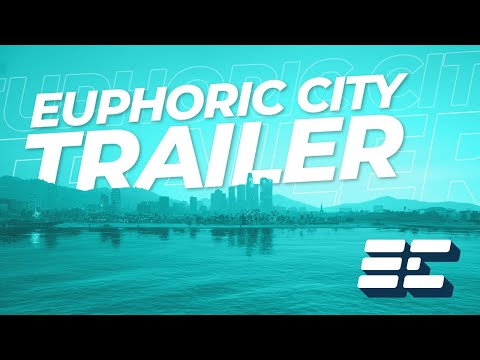 Our Team
Our team has various people from all different walks of life, allowing us to come together and create something bigger than ourselves and something that we believe welcomes people of all different creeds.
Our Community
Our community is one of the friendliest and most welcoming you will ever meet! Scared to get involved in a new server? No need to worry, someone will always be willing to help and show you the ropes! We like to show appreciation to our community by listening to them and implementing new features that they have asked for.
Whitelisted Jobs
We offer various jobs which require a small application to join, in order to ensure they are conducted at the highest level possible, these include:
Police Department
Emergency Medical Services
Department of Justice
Weazel (you can check out the YouTube here)
Real Estate
Player-Owned Businesses
We offer many player-owned businesses, as well as the chance to create your own from absolute scratch, only costing in-game money that you have earnt throughout your time in the city! If you wish to work for one of these, simply ask a manager or an owner of the business in the city!
Burger Shot
Tuner Shop
PDM
Various Mechanics
Diamond Casino
And more to find out in city!
---
Civilian Jobs
We offer many civilian jobs that anyone can sign into can do in their free time for some cash on the side! These allow you to explore the city and are often a good first step for anybody new to the city!
Garbage Truck Job (Clean up the city with your friends!)
Enhanced Hunting (Hunt animals throughout Los Santos and sell the pelts for money!)
Enhanced Fishing (Armed with a rod and some bait, catch various different types of fish!)
Trucking (Deliver packages to houses throughout the city!)
---
Illegal Jobs
We offer many illegal jobs, with our new and custom-made criminal reputation system, allowing criminals to work their way up in the criminal underworld and unlock various things as their reputation increases. At the absolute basic level, this includes store and house robberies, but as you gain a name in the city, this expands to so much more that you must find out in the city!



Custom Scripts
On top of all of this, we have made almost 95% of our scripts from absolute scratch, as well as offering various elements not seen before in any other city!
Custom clothing & hair
Custom MLOs (All paid for & Up to date!)
Custom crafting system


Check out our social media platforms:
Twitter
Instagram
YouTube
TikTok
Facebook