___________________________________________________________________________
Department of Public Justice Roleplay Community
Est. 2017/01/01.
Official Website
Official Facebook Page
Official Public Relations Discord
Official Public Relations TeamSpeak [email protected]
___________________________________________________________________________
About the DoPJRP
The Department of Public Justice Roleplay Community (DoPJRP) began development in late December 2016. The DoPJRP's Core Values the bedrock of everything we do (Courage, Initiative, Integrity, Professionalism, Accountability, and Respect), this assists the DoPJRP on our unique approach to roleplaying in Grand Theft Auto V.
The Department of Public Justice aims to integrate a realistic and professional environment for all members while keeping a friendly orientated environment and love of gaming.
Courage: I am resilient and always act with integrity, moral and physical courage and encourage others to do the same. I am courageous in the Community and the public.
Initiative: I take action to improve myself continuously, my team and Community, not only on the In-Game but in all areas, all the time.
Integrity: Integrity is the display of truth, honesty and fairness that gains respect and trust from others.
Professionalism: Work together to identify and achieve common purposes and objectives, Build inclusive partnerships and Deliver on Communities promises, and do it well
Accountability: I am accountable for my behavior and actions in my team, community and the public.
Respect: I value differences. I always respect others through my actions and my words.
___________________________________________________________________________
Why Join the DoPJ?
Many people are regularly faced with the question "Why this community?" today we will answer that question.
The Department of Public Justice promotes the most realistic forms of roleplay possible in Grand Theft Auto, this is achieved by dedication to duty from all members.
Members of the Department of Public Justice have a will to win, a dedication to duty, a great sense of honor and compassion, a belief in honesty and the benefits of mateship and teamwork.
The Leadership Team strive for excellence in every task they perform. The Leadership Team is responsible for maintaining an exciting, professional/realistic experience in both our FiveM game server and Community. The Leadership Team all have prior/on-going Leadership experience and most considered subject-matter-experts (SME).
The Department of Development take action to improve the community continuously with continued development into Emergency Uniforms Pack (EUP), vehicle designs, and our CAD/MDT System!
Features
Custom EUP
Custom Vehicle Designs
Extensive Criminal/Civil Law Research
Extensive State Statute (Criminal/Civil Law)
Extensive & Custom CAD/MDT System
Accurate Police, Emergency & Rescue Service Radio Telecommunication
Accurate and Extensively trained Police, Emergency and Rescue Services.
___________________________________________________________________________
Departments
The Department of Public Justice attempts to provide an experience unlike no other in all of our Departments. This can be seen with our advanced in-depth Training Objectives, Training Procedures, and general professional nature shown by Members of those particular Departments.
Civilian Operations Command - (Recruiting)

About us:
The Civilian Operations Command (COC) is responsible for maintaining credible and realistic scenarios in a professional environment on the FiveM server.

Members of the Command have the unique opportunity to command a criminal empire or work a regular 9 to 5 or do both.

The Civilian Operations Command manage/maintain civil services and businesses in San Andreas including but not limited to; Roads & Maritime Services, Volunteer Firefighter, or National Parks & Wildlife Services Ranger all separate for each individual.

Civilian YouTube Videos

The Next Logan Paul?!?!?! (DoPJ RP Episodes #2 Civ) - YouTube

Alien 52 Vehicle Pursuit (DoPJ RP Episodes #1 LEO) - YouTube
Operational Communications Centre - (Recruiting)

About us:
The Operational Communications Centre (OCC) provides critical operational support to San Andreas State Troopers, Firefighters, Paramedics and Roads & Maritime Services in the field. The OCC is the first point of contact for the public requesting Police/Fire/Ambulance assistance in both emergency and non-urgent matters.
Department Page
OCC Certifications Page
San Andreas Fire Service Service (Recruiting)

Department Page
Our Preparedness
Committees and Strategic Alliances

Opportunities:
San Andreas State Police - (Recruiting)


Department Page
General Duties Policing
Specialist Policing Opportunities
SASP Organizational Structure
_________________________________________________________**
Recruitment to the DoPJRP
Recruitment into the Department of Public Justice is one of the most advanced processes within the FiveM community. Our Members within the Department of Recruitment & Field Training (DoR&FT) are qualified to assist potential applicant/active applicants and current recruits within the Community with issues regarding training/integration.
Recruitment Requirements

Minimum Age: 15 Years old.
Working TeamSpeak 3 Client.
Fluent in English. (Written & Verbal)
A Willingness to Learn & Participate.
You must have a Clear & Audible Microphone.
Working Grand Theft Auto V (GTA5) and FiveM client.
Promotional Videos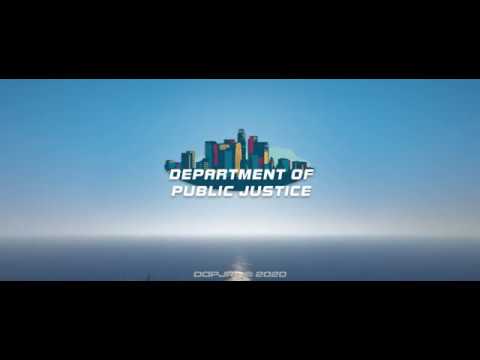 In-Game Videos

Civilian Security Company
Innovative Protection TV AD - YouTube
Any Questions, Queries, Concerns, and Doubtful Points? Please feel free to contact our Recruitment Staff via the FiveM forum, our email address ([email protected]), our Public Relations Discord (https://discord.gg/BNxgyct), Instagram and Facebook page we aim to provide assistance and guidance throughout the Recruitment/Integration processes.
___________________________________________________________________________
Courage | Initiative | Integrity | Professionalism | Accountability | Respect