# Roller Skating 3D Model + Script
.
Hello !
Here's our new release: A Roller Skating 3D model with a little Script !
This script is open source and has no ip lock. Feel free to edit this script as you want.
This script is based on RC-Car script from Qalle
Thanks to @Sarish for bringing my creations and my crazy ideas to life
.
▲ What do you have in this package ? ▲
3D Roller shoes for Female and Male with differents textures (I made Two 3D Models to fit correctly for Female and Male)

Free Script that work with my 3D model

A read me file
.
▲ Installation ▲
Just simply drag and drop in your resource folder and start it !
.
▲ What does the script do ? ▲
Just simply ride on your favorite place and show off in front of your friends !
Use the command /roller to put your Roller on your feet.

Use the command /leave to remove the Roller shoes.

Your shoes will be saved and put back when you take off the Roller

Choose the color of your Roller for Female and Male in the config.lua

Different/custom animations for Female and Male when you ride with the Roller

You can't fall by a random collision
We don't do the Roller as an item because we want to make the script standalone. Our shoes are not PROPS, they are cloths.
.
▲ Video Preview: ▲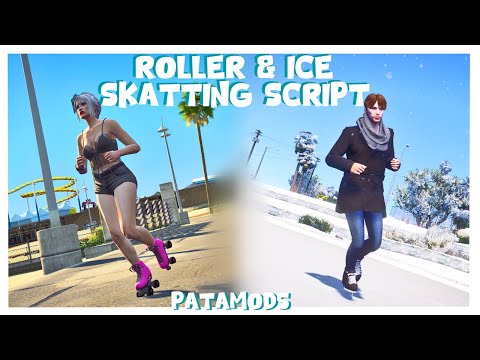 .
▲ Requirements for the script and Price for the 3D model ▲
Standalone

You need to have a FiveM Argentum key minimum to stream the Roller shoes

Price: 12€99 (without taxes)
You can get this package on my [TEBEX store] !
.
More Roller screenshots
.
Check my other mods !
Flying to Cayo Perico with and NPC airplane
Wedding Dress
A Wedding Set
Bikini Top
.
UPDATE
Update 1.1
Added the sprint button to go faster (max 35kmh). Can't be more because your playermodel will shake.

Reduced base speed (35 to 20kmh) for the sprint.

The jogger animation is continuous when you sprint.

Remove unnecessary code (it was our framework + debug) that was causing an error in the console (But the script was working).
.
UPDATE 1.2
I made a little 3D Knee Pads for Male and Female
They're not perfect, but hope you'll enjoy…
.
Screenshots KneePads